You are going to love this 76 page brochure! It includes the itineraries of 10 different Escorted Euopean Tours, and invaluable travel advice regarding passports, weather, insurance, meals, tipping and more.  Plus, there's 6 pages of testimonials from people who have traveled with us! Your free brochure also includes: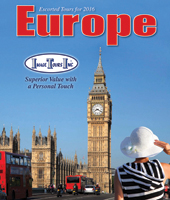 Detailed intineraries
Tour maps
Hotel information
Optional excursions
Extensions
Reservation instructions
Current specials
Call us if you have any questions, we are happy to help you plan your Escorted Tour.